Trent Port Marina is a first-class municipal marina unlike any of its kind.
Boaters' Environmental Code of Conduct
Prestigious Blue Flag Eco-Certification
Swim Drink Fish proudly operates Blue Flag Canada on behalf of Blue Flag International and the Foundation for Environmental Education. A Blue Flag tells you a beach or marina is managed sustainably, is accessible, and has high-quality services and safety procedures.
Blue Flag marinas meet 38 criteria across six categories: Environmental Education and Information; Environmental Management; Safety and Services; Water Quality; Corporate Social Responsibility; and, Social and Community Involvement.
The prestigious 'Blue Flag' was awarded to Trent Port Marina for the first time in May 2018 and after a lengthy annual application process, again in May 2019, May 2020, May 2021 and May 2022.
In October 2020, Trent Port Marina received a report on Blue Flag's control visit conducted in August 2020. That report stated that 'Trent Port Marina sets the bar for Blue Flag marinas in Canada', confirming that it is a 'premium-class municipal marina unlike any of its kind'.
Great Lakes Plastic Cleanup Project
It is estimated that 10 million kilograms of plastics enter the Great Lakes each year. Studies show that 80% of litter found on Great Lakes shorelines is plastic, raising public and political concerns about plastics in our environment and pollution pathways to extraordinary levels.
The Great Lakes Plastic Cleanup, founded by Boating Ontario, the Council of the Great Lakes Region, Pollution Probe, PortsToronto and the U of T Trash Team, thanks to funding from government and corporate partners, is a first-of-its-kind initiative using innovative Seabin and LittaTrap technology to quickly capture and remove plastics and other litter at marinas from Lake Ontario to Lake Superior and everywhere in between. Through research, outreach and education, and collaboration with various organizations, the Great Lakes Plastic Cleanup will work to identify sources of litter entering our waterways and how government, industry, and consumers can work together to reduce, reuse and recycle material waste.
Trent Port Marina is proud to have been invited to participate in this exceptional environmental initiative and to contribute to research that will quantitatively measure our impact and inform local source-reduction.
Boating Ontario's Clean Marine Program
Trent Port Marina is proud to be a member of Boating Ontario's Clean Marine Eco-Rating program. The Program allows marine businesses to follow best environmental practices to reduce and prevent water, air and land pollution associated with recreational boating activities in Ontario.
The Program is voluntary and every Clean Marine marina must pass a comprehensive environmental audit to ensure compliance with the Program standards set out in the Clean Marine Operations Handbook. Developed through the cooperation of Boating Ontario, Environment Canada and the Ontario Ministry of the Environment, the Handbook sets out more 220 environmental practices that cover all aspects of marine operations from fueling to waste oil, shrink wrap and paper recycling, to money-saving initiatives such as energy conservation.
Trent Port Marina proudly flies the Clean Marine environmental flag, your assurance that it has adopted some of the highest environmental standards for marinas in the world.
Lower Trent Conservation is a community-based non-profit environmental protection organization that protects, restores and manages the natural resources within the Lower Trent watershed region. It works with local communities to create a healthy, environmentally diverse watershed that improves the quality of life for residents, makes our area more appealing to visitors and new business, and helps to ensure a more vibrant regional economy. A Lower Trent Conservation representative has traditionally been a member of Trent Port Marina's Blue Flag Environmental Management Committee.
Bay of Quinte Remedial Action Plan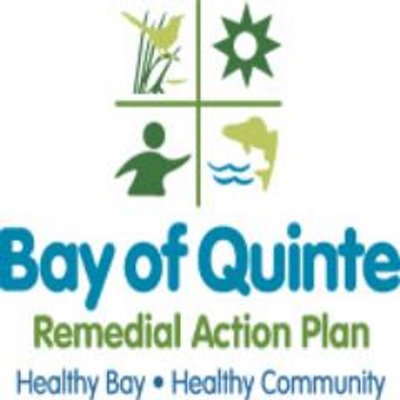 For the Bay of Quinte, the RAP process was started after 1985 when it was designated as an Area of Concern. A Stage One report was written in 1990 that defined the environmental conditions and problems. It outlined four ecosystem problem areas: excess nutrients, bacterial contamination, toxins, and loss of fish and wildlife habitat. In 1993, a Stage Two report was completed. This report listed eleven Beneficial Use Impairments and made 80 recommendations for remedial actions to address these "BUIs". It also established delisting criteria (i.e. targets and measures) that need to be met to restore the BUIs.
The Bay of Quinte is currently in Stage Two and has made significant progress since 1993. The next phase in the process is Stage Three. Through the RAP process, the Bay is very close to reaching Stage Three. The RAP is working to complete monitoring to ensure that delisting targets and measures for the ten BUIs have been met and to document the completion of the 80 recommendations for remedial actions. When Stage Three is complete, the Area of Concern is "delisted". The decision to delist an Area is made by the federal, provincial, and local RAP participants, with advice from the International Joint Commission. When an Area is delisted, however, it doesn't mean all the work is done. Continued diligence is essential to ensure that the environmental quality is sustained into the future.